So, I decided to start writing down some of my experiments-gone-right in the kitchen, since I might want to attempt reproducing the results later. Or, hey, you never know-- someone ELSE might want to try the recipes I cobble together mostly by luck and sheer stubbornness.

I'll probably write a proper post (with more Gus videos and some funny photos) this weekend, but for now, have a recipe. Let's start with something easy.

ZOMG AMAZEBALLS!

That's the official name for this recipe. It's simple, but it takes awhile to make.
Ingredients:
About 2-3 cups of leftover mashed potatoes (at least chill in the fridge for an hour before making AMAZEBALLS)
1 or 2 eggs
Cheese of choice, cubed
Salt & pepper and other seasonings as desired
Frying oil of choice
Potato starch (optional) or panko crumbs (I haven't tried this one yet, but I saw another similar recipe that used it and it sounds YUMMY). You don't necessarily need to dip your balls in anything. I'm sure naked balls fry up just as well.
Mix potatoes (seasoned as desired) and eggs in a large bowl until eggs are totally incorporated. You might want to just squish your hands in there to be sure. Scoop generous spoonfuls into your palm and flatten the potato mixture, then stick a piece of cheese in the middle and fold the potatoes around it until it's all tucked in. Make into a ball and flatten slightly (but not so much that the cheese pokes out). Dip in optional potato starch or panko crumbs for extra crispiness on the outside. The potato starch is also nice because it keeps the raw balls from sticking to each other in the bowl. Nobody likes sticky balls.
I fried mine in my wok in about 1/4 to 1/2 inch of canola oil, medium heat. Oil should be hot enough to cook the balls quickly without soaking into the potato too much, but not so hot that you get scorching or spattering. You don't want burned or soggy balls. Flip them when they're golden brown on one side, scoop out with a little strainer or wooden spoon, drain on napkins.
I KNOW THEY'RE SUPER EXCITING AND YOU WILL WANT TO EAT THEM IMMEDIATELY BUT JUST WAIT A SEC! THEY WILL BE MOLTEN LAVA HOT.
Great side dish, or eaten on their own. I inhaled like five of the damn things (with blisters in my throat to prove it) before they were done sizzling. The burning never tasted so good. I am full now.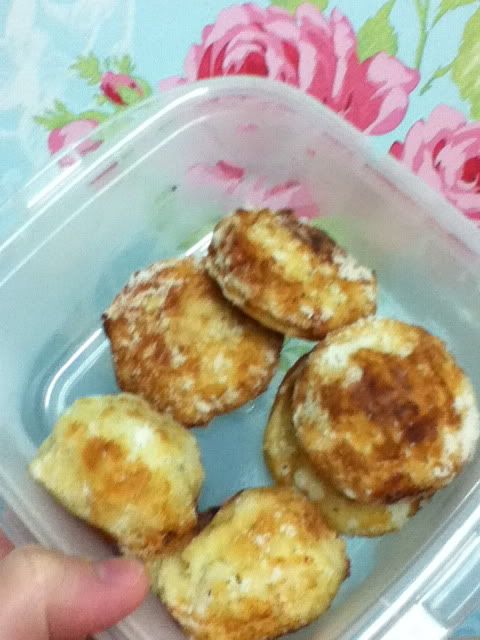 ENJOY!