All right, so my second week of classes isn't quite over yet (though the classes are), so it's not THAT belated. But I still feel like I'm being lazy. Is one post per week going to be enough for you guys? It might have to be, especially when I get busier (and when it starts getting more boring and routine).

Last Friday was fun. First of all, Julia and Nathan wound up dressing in identical colors, which was hilarious because that's something romantic couples do here in Korea. So did Melissa and Sam, though to a lesser extent.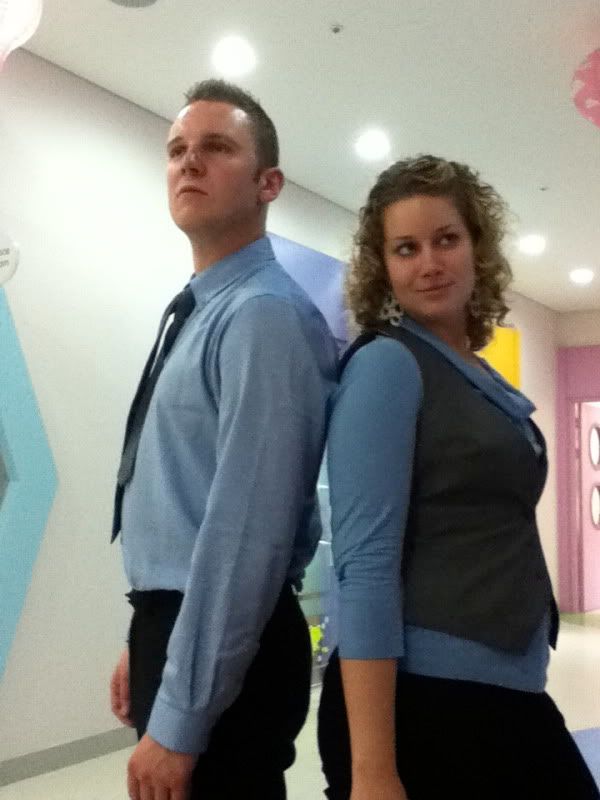 They did look rather impressive and sexy, though.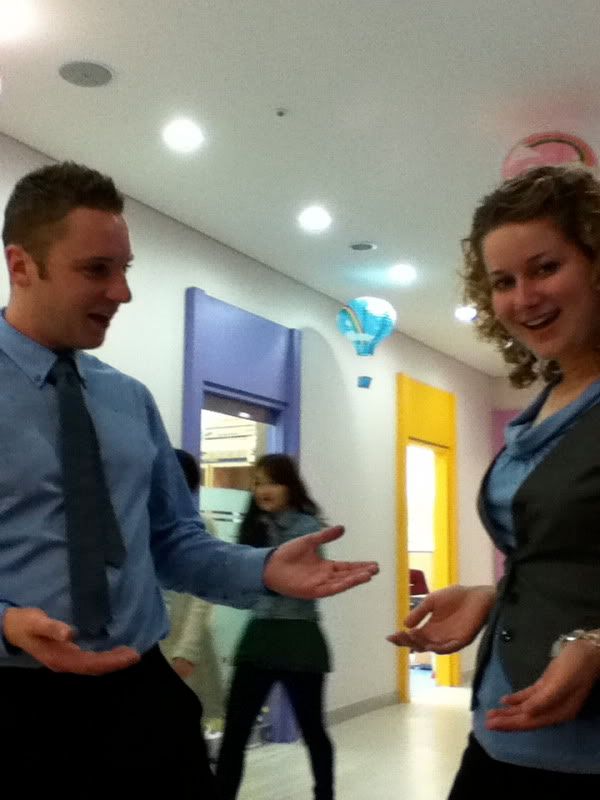 "What? We totally did NOT plan this!"

We had another guest speaker for a training session that involved more in-depth storytelling and lesson planning techniques using the Interactive White Board (IWB) technology. Seemed pretty cool. Also, we got to draw sharks.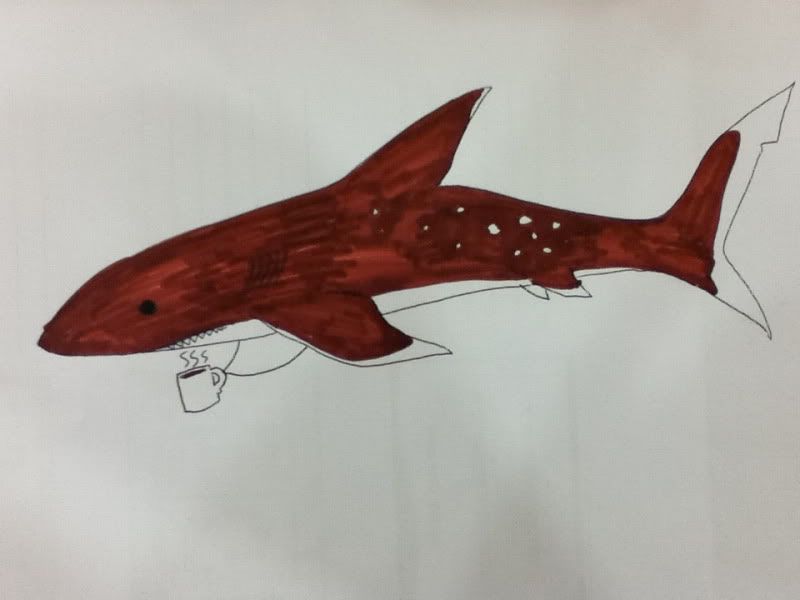 Mine needed coffee.

After that, we had an exciting adventure at the hospital for our E2 Visa medical exams. It mostly consisted of peeing in a cup, getting blood drawn, a chest x-ray, and the usual measurements and medical history questions. I'm apparently perfectly normal and healthy, except for being too fat (the doctor's words, not mine, for once). Whatever. By Korean standards, Paris Hilton is fat. Besides, after all the hill and stair climbing I'll be doing in this country, I doubt I'll be nearly as chunky after a year or two!

Though I might be eating a lot of toast for awhile.


Don't judge me. It was the cheapest one they had at the LG store.

Last weekend was Canada's Thanksgiving holiday, so I agreed to go out with my Canuck friends for a nice, traditional... Korean barbecue

?! o_O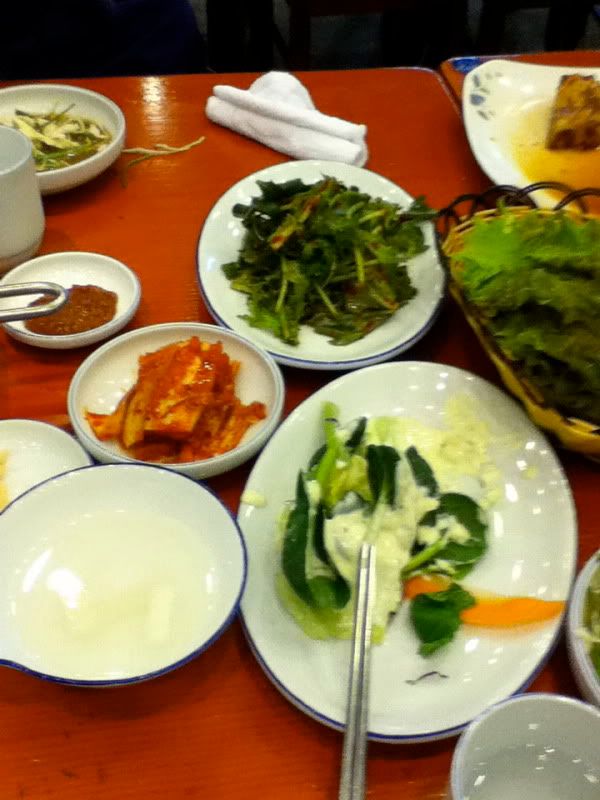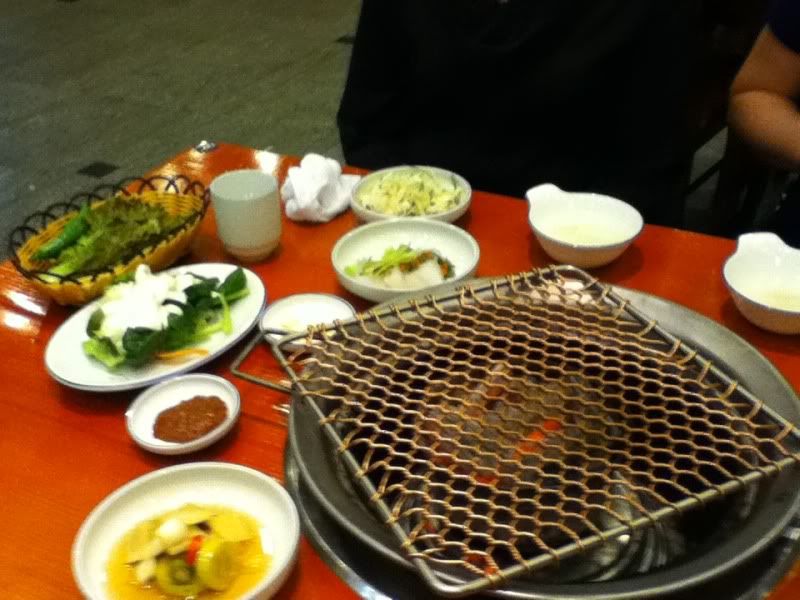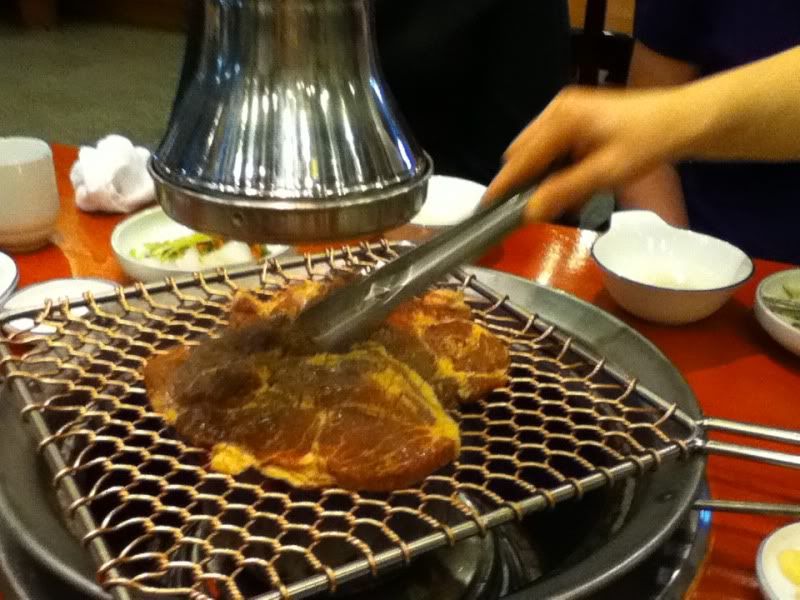 Well, who can say no to that?

Dinner was excellent, though sadly it lacked a Sam. He wasn't feeling well. It nearly lacked a Nathan as well, but he showed up just as we were finishing off the last of our meat. After gratuitous jokes about stuffing our mouths with pork, we ordered another serving so that Nathan could enjoy some dinner as well.

Generally spent my weekend being lazy, so... FAST FORWARD TO MONDAY.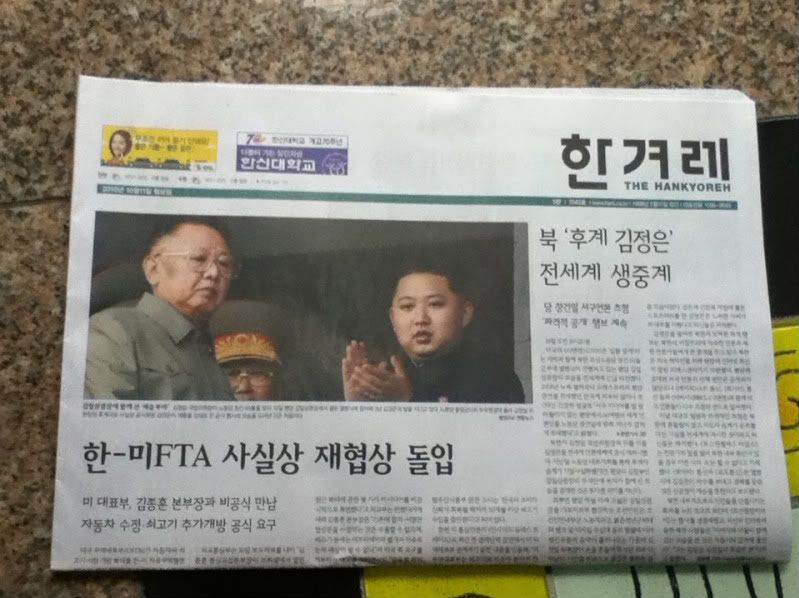 The local newspaper.

OMG that spider again!


Monday, I had no classes, but it was the Uiwang English Premiere Center's grand opening. I got a few pictures of setup, and managed to get one of my videos of the entertainment up on Youtube (the others got eaten by iPhoto, yet again, sad to say). So, here are the drummers again:



And here are some photos: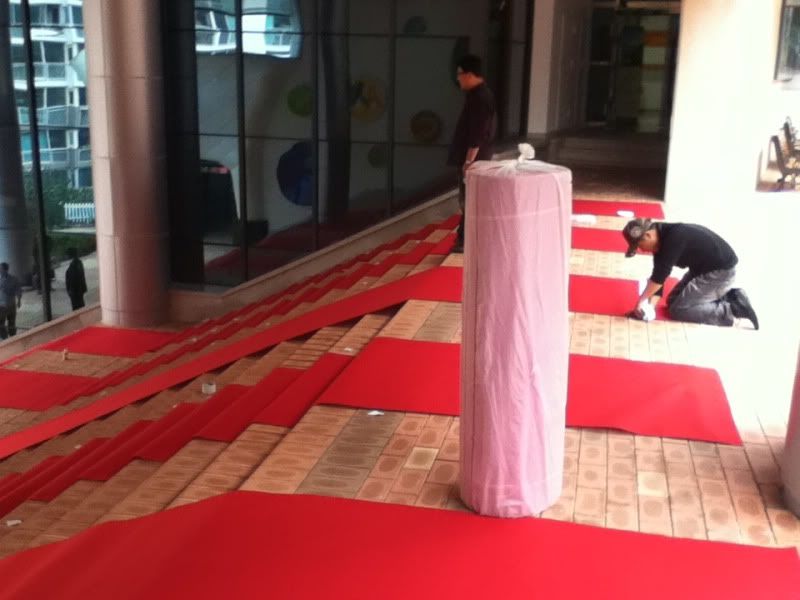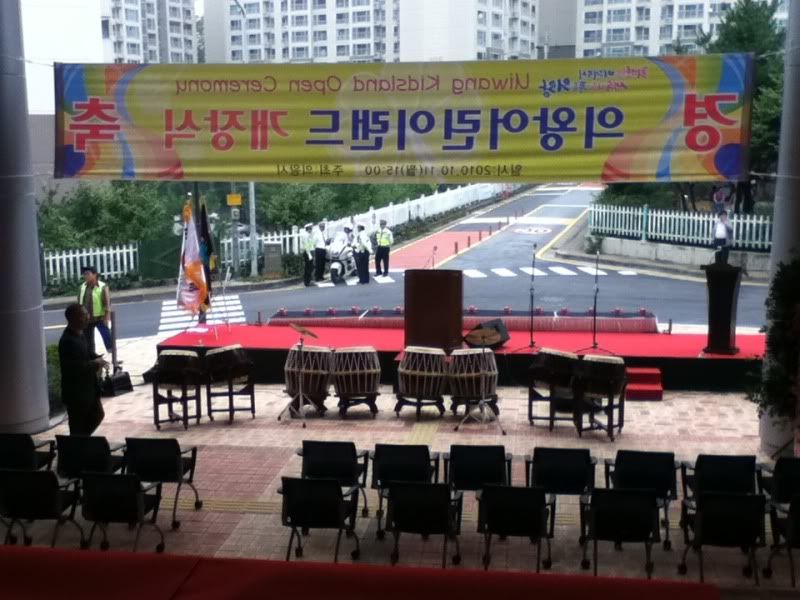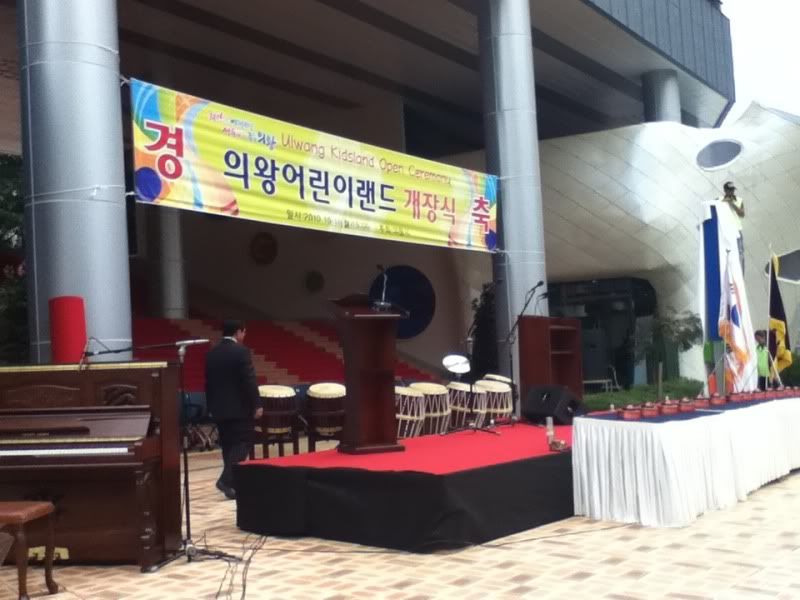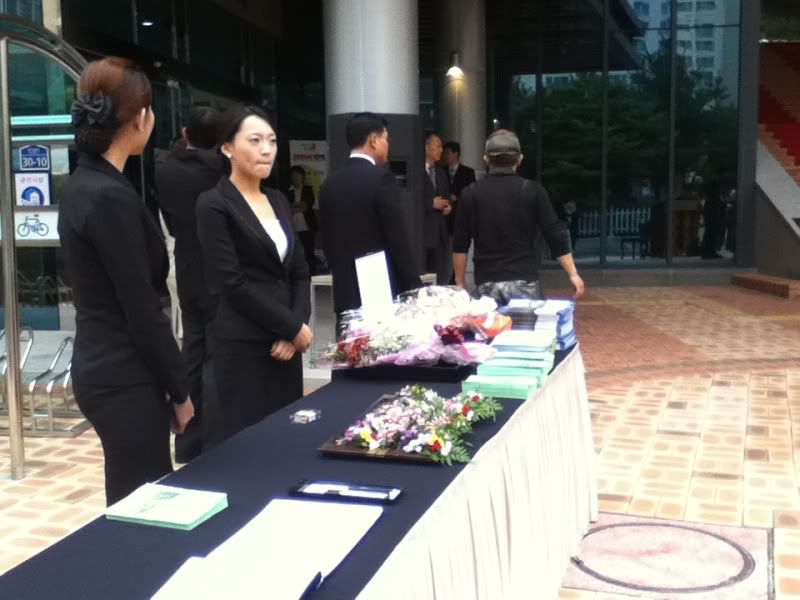 Sam and I got to meet both the mayor of Uiwang City and the governor of Gyeonggi province. We got to shake their hands and everything! No pictures of me doing this, sadly, but I sneakily snapped one of Sam.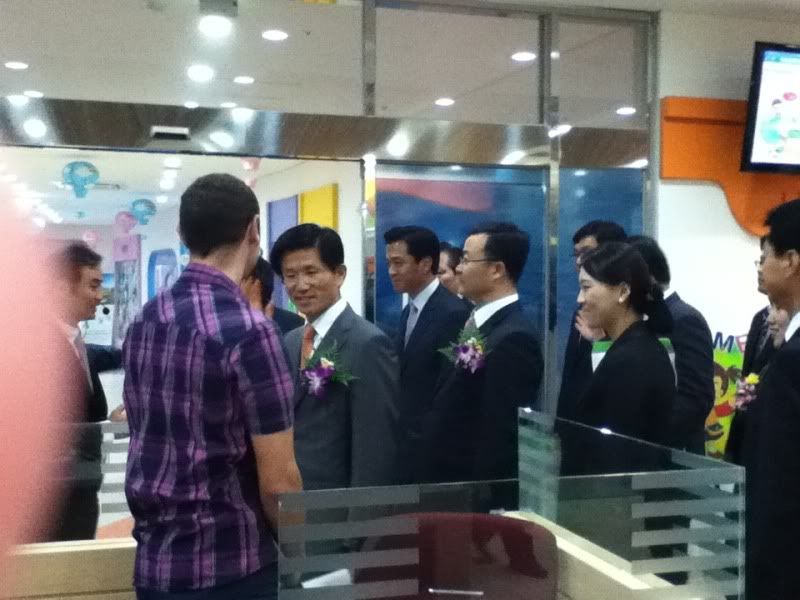 That night, Steve, who is the best boss ever, took all of the foreign teachers out for fried chicken and beer. It was the best chicken I'd ever tasted, which is really saying something.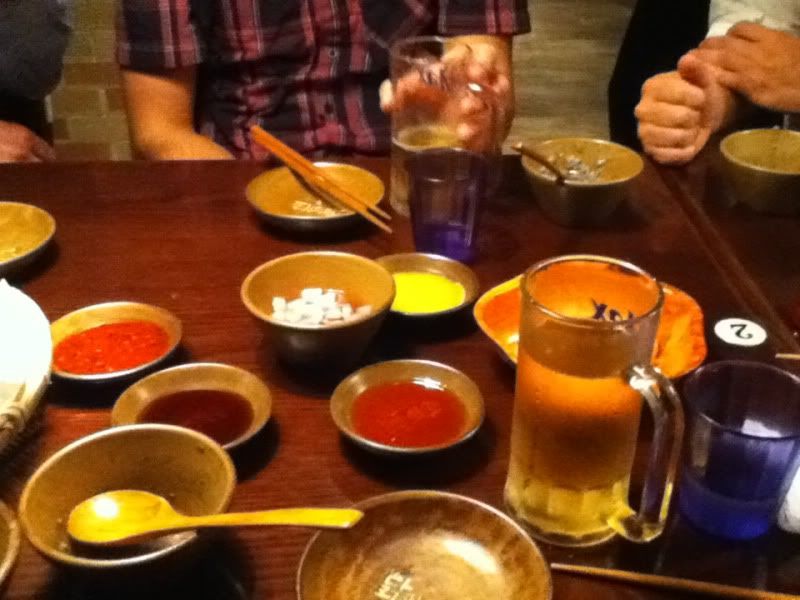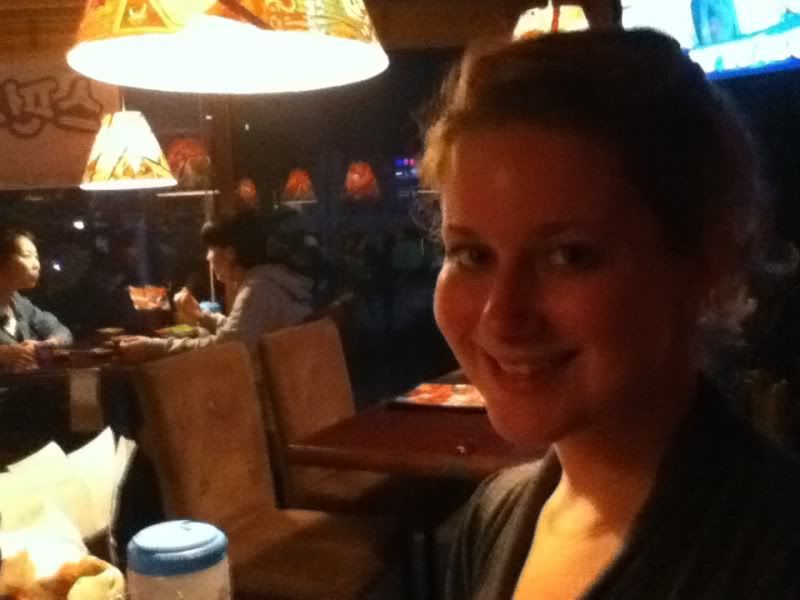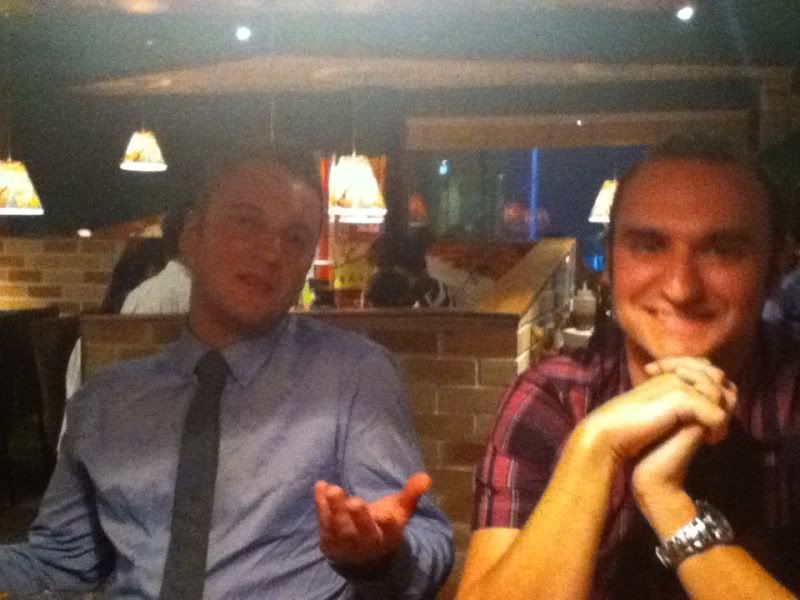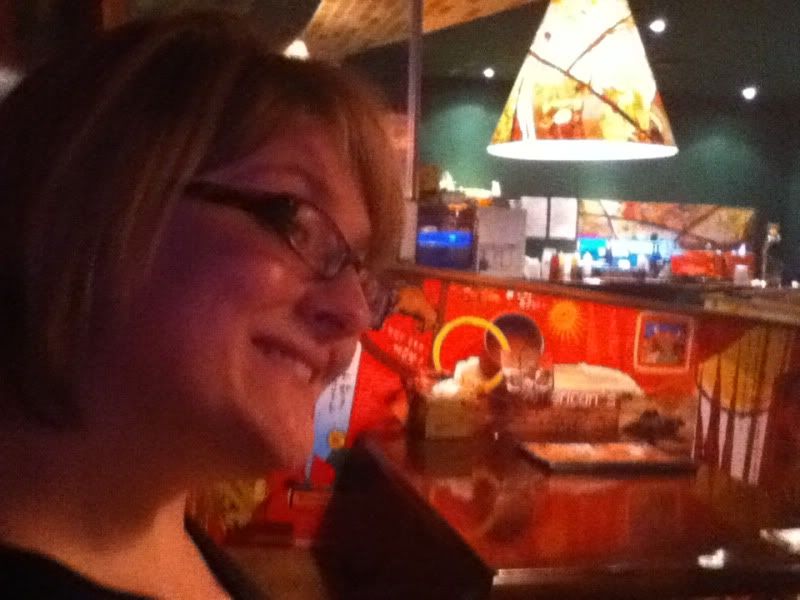 Oh, and the beer came in one of these huge phallic things: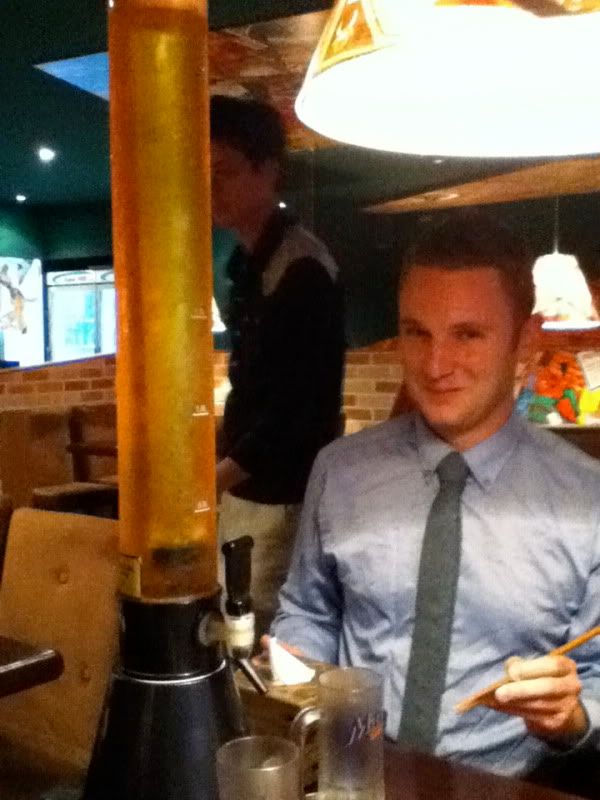 Even Nathan was impressed.

Classes went fairly well this week. I had two classes on Tuesday (with Melissa as co-teacher), and one each on Wednesday (with Nana) and Thursday (solo, today). The only one that was a bit difficult was my second Tuesday class. There were only three students, all 5th grade, and at that age nobody wants to be seen dancing and singing about cookies in front of their friends. We finished in half the class time, and then one of the students said she had to go home early. Which left us twenty minutes to entertain two fifth graders, and try to find an approach to teaching them some English that was both relevant to the cookie lesson and not too boring and/or embarrassing for their pre-teen egos. I think it was a bit torturous for all of us-- students included. T_T

I had to cheer myself up with pizza after that ordeal. Say, Korea does good pizza! I wonder if their Pizza Hut is also good!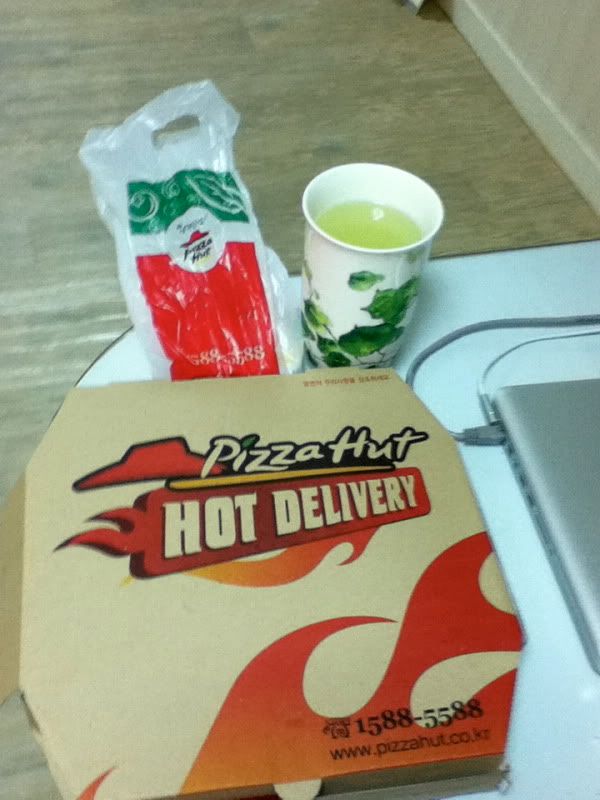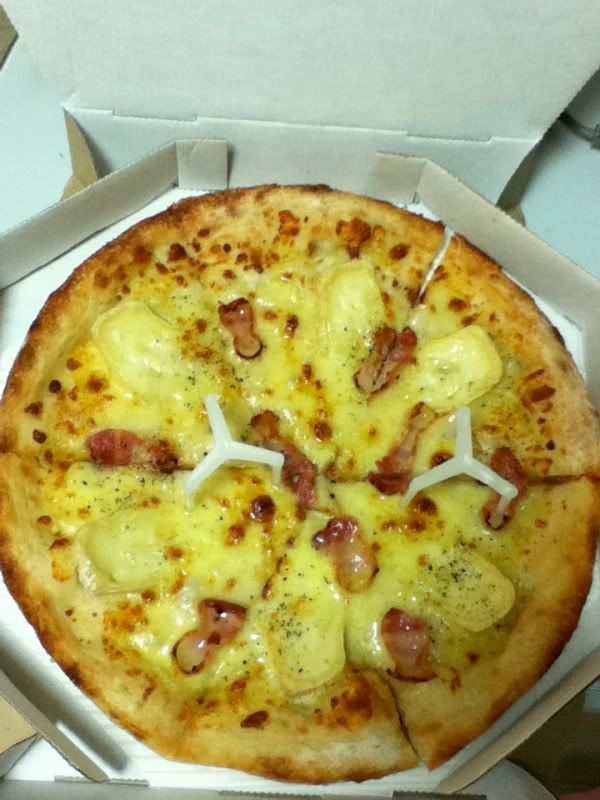 Camembert and bacon?! HECK YEAH!

Wednesday's class went much more smoothly. The kids were very enthusiastic. The room was a bit cold, though, because they were testing the AC. Here's poor Nana, freezing, wrapped in a blanket, reaching for the warm air from the heater.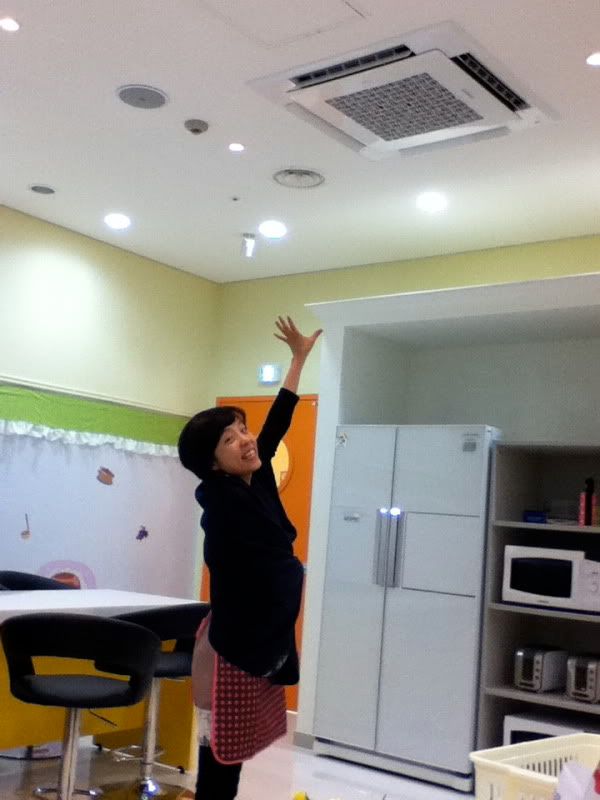 I didn't take any pictures today. Had a rather uneventful day, actually. The lesson went really well, kids were great, and I spent any time I wasn't actually lesson planning or making materials requests for the Cooking Room just sitting at my desk, listening to The Strain (audiobook) by Guillermo Del Toro and Chuck Hogan (read by Ron Perlman) on my iPod. It's pretty good so far. Then, since it was the last day of actual classes for that week, everyone (including the office staff) called an early night. I like to think we'd all earned it. We've been working hard!

Tonight was udon and onigiri, a nice cheap, filling meal. Nathan and Melissa went with me, so I didn't have to eat alone tonight, which was nice. And now, finally, I am updating this blog.

I'll probably head to bed early again tonight. Last night I did, and it felt so good to get some proper rest for once (even though I kept waking at odd hours). So, good night, everyone!


Cheers,

-Maria