Third and final day of orientation, we had another guest speaker named Gilly Dempster, originally from Scotland. She lectured about kindergarten education and had a lot of fun activities and songs for us to try, as well as suggestions for classroom management and getting kids involved. I didn't get any pictures of her, either, though I wish I could have. Her energy filled the room! She was a lot of fun, and very informative.
After lunch, we received our schedules for the first week of actual teaching, which starts on Monday. In November, we'll start teaching paid classes, so we'll get a few more workshops between now and then, but for now these are the free sample classes to promote the school. Of course, this doesn't mean we get to slack off; quite the opposite! Despite being so inexperienced with teaching in a classroom setting, we need to do our best to make the school look good, and that means getting the kids to have fun using English. May be easier said than done, but I'm more excited than nervous!
After we got our
schedules
, we received a kit with whiteboard markers and an eraser and a
lesson plan
. Yep, they're going easy on us at first and pretty much giving us the lesson plans. We still have to determine how we'll implement the plans step-by-step, but for the most part the work is done for us. We had to come up with materials lists to submit to Cindy so she could make sure we have everything we need by Monday. Since my assigned classroom is the Cooking room, that meant a lot of kitchen things.
Here are some pictures of my new classroom! I also get to use this as my homeroom/office, since I'm not teaching classes anywhere else.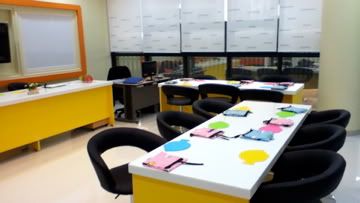 And
here
are
some
more
pictures
in the
links
, in consideration for those who have slow computers/internet connections.
Once we'd familiarized ourselves with our rooms, figured out our materials requests, and gotten the Reading Room straightened out a bit, we all went out as a company for dinner at a Korean BBQ place. Now,
Korean BBQ
is a little different from Western-style BBQ. In the restaurants here, you sit down at
low tables
with big holes in them, and the
servers
put braziers of red hot coals into the holes.
Mesh screens
are placed over the coals, and thin cuts of
marinated pork
are laid out on the screens to grill.
Korean beer and a strong liquor called "soju"
are commonly served in restaurants here, and they're both pretty decent. Soju is a little strong for me, but I really liked the beer. I wouldn't have had anything to drink, really, but it's considered rude to not accept at least the first drink when somebody else is buying.
The food was excellent. I've never had pork so delicious, and I'm not usually a fan of pork. It was perfectly cooked, a little sweet, and very fresh. I sat across from one of the staff,
Chris
, who doesn't speak much English, so we had a fun time trying to communicate. He showed me how to eat
some
of the
various
side
dishes
.
Everyone
sort of
moved
around
the
tables
so they could
sit by new people
every so often and
chat
. Everything in Korean meals is communal, so after awhile I stopped caring whose glass was whose and just tried whatever looked good and happened to be in front of me at the time. And, of course,
there
was
much
drinking
. This is a very
important
thing
in Korean culture, to
bond
with
your
coworkers
over good food and
drink
, and if you refuse to go out, it sends the message that you don't like the people you work with. I, naturally, had to make a
good impression
.
On our way
to the second bar (yeah, they wanted to drink some more), we saw a bit of the
cultural
festival
in Anyang. It was kind of neat, though we didn't see much more than the decorations and a few game booths.
I didn't drink at the second bar, except for water, as I'd reached my limit. I did partake of some of the bar food, which is pretty awesome in Korea. They give you things like beef jerky, peanuts, salted almonds, dried squid, sheets of nori (seaweed) and sesame oil for dipping, and fruit salad. Everything was delicious, and even though I was full from the BBQ, I nibbled. I wanted to leave, since everyone started smoking and I wasn't feeling well, but none of the other people in my apartment wanted to come with yet, so I waited around until they were ready to go home. In the meantime, I discovered a hidden talent; using an Asian-style toilet without wetting my shoes. (It's more difficult than it sounds.)
The next morning, I wasn't really hungover (I'd had a lot of water to offset the alcohol with dinner), but I was bone-deep exhausted. Nathan came over to our apartments and we went for a shopping trip to Lotte Mart. We saw a
terrifyingly huge but sort of pretty spider
along the way.
Nathan
was his usual
charming
, witty self as we picked up some essentials for his apartment.
I begged off early, as the humidity and heat of the shopping center was making me dizzy and ill, so I took my little bag full of purchases home. On the way, I finally got a
few
nice
shots
of the
fountain
not far from our building.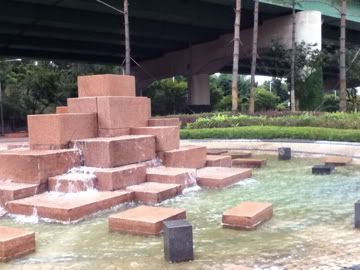 And then I went home, took a nap, did a load of laundry, and rigged up a clothes line in my apartment. The end.
Well, not really. We're going out for karaoke tonight, which is called "noraebang" in Korean. I'll post about that tomorrow!
Cheers,
-Maria